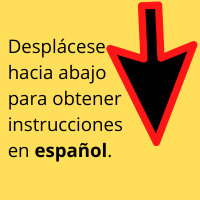 Help your child be ready for the first day of school. Sign the e-form today!
All parents who wish for their student to use an EHMS technology device (chromebook) for school and/or home use, need to login to the ePortal Parent Campus account and digitally sign the "HCSD Student Device Checkout Agreement".  It is advisable that parents sign this form prior to orientation and the first day of school, so that students will have a school issued device as soon as possible.
Students whose parents do not sign this form are opting out of receiving a HCSD device. By not signing this form, parents are agreeing to provide a device with similar functionality to the issued student device for school and home use. Please note that HCSD cannot provide any technical support for non HCSD devices.
Below are directions for digitally signing the form.
PLEASE NOTE: You must sign into your Parent Campus eportal from a COMPUTER this school year in order to be able to access this document.  You may not see the document if you login via the Campus Parent Phone App.
If a parent logs into the Parent Campus eportal from a computer, goes to the "documents" section and does NOT see the "Student Device Agreement" form, please email cyndi.anicetti@hallco.org (our EHMS Data Clerk) to have this form added to your Parent Campus documents. Include in the email your student's name/student ID#/grade and the name of the parent accessing through eportal.
Please see the printable step-by-step directions below or watch directions via video here.
Portal eSignature Instructions updated

***Espanol***
Ayude a su hijo a estar listo para el primer día de clases. ¡Firme el formulario electrónico hoy!
Todos los padres que deseen que sus hijos utilicen un dispositivo de tecnología EHMS (Chromebook) para la escuela y / o el hogar, deben iniciar sesión en la cuenta de ePortal Parent Campus y firmar digitalmente el "Acuerdo de pago de dispositivos para estudiantes de HCSD". Es aconsejable que los padres firmen este formulario antes de la orientación y el primer día de clases, para que los estudiantes tengan un dispositivo proporcionado por la escuela lo antes posible.
Los estudiantes cuyos padres no firman este formulario están optando por no recibir un dispositivo HCSD. Al no firmar este formulario, los padres están de acuerdo en proporcionar un dispositivo con una funcionalidad similar al dispositivo del estudiante emitido para uso escolar y doméstico. Tenga en cuenta que HCSD no puede proporcionar ningún soporte técnico para dispositivos que no sean HCSD.
A continuación se encuentran las instrucciones para firmar digitalmente el formulario.
TENGA EN CUENTA: Este año escolar debe registrarse en el portal electrónico de Parent Campus desde una COMPUTADORA para poder acceder a este documento. Es posible que no vea el documento si trata de hacerlo a través de la aplicación Campus Parent Phone.
Si un padre inicia sesión en el portal electrónico de Parent Campus desde una computadora, y si va a la sección de "documentos" y NO ve el formulario del "Acuerdo para adquirir una laptop (Chromebook) para el estudiante", envíe un correo electrónico a cyndi.anicetti@hallco.org para obtener este formulario agregado a sus documentos del campus de padres. Incluya en el correo electrónico el nombre de su estudiante / número de identificación del estudiante / grado y el nombre del padre que accede a través de e-portal.
Portal eSignature Instructions updated in Spanish

https://ehms.hallco.org/web/wp-content/uploads/2020/08/URGENT.jpg
500
500
Jennifer Parker
https://ehms.hallco.org/web/wp-content/uploads/2019/05/EHMS_Logo.png
Jennifer Parker
2020-08-11 23:40:33
2020-08-18 20:00:59
Device Agreement